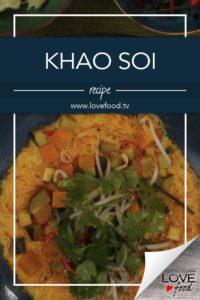 Khao Soi
2016-12-28 08:37:41
Ingredients
2 tablespoons coconut oil
2-3 tablespoons Thai red curry paste
2 teaspoons curry powder
1 teaspoon ground turmeric
2 cans coconut milk
250 ml vegetable stock
1 whole star anise
1 cinnamon stick
1 teaspoon brown sugar
2 sweet potatoes, peeled and chopped into 2 cm dice
2 zucchini, green or yellow, chopped into 2 cm dice
juice of 1 / 2 lime
2 tablespoons fish sauce, or to taste
400g Chinese egg noodles – vermicelli size
to garnish
4 green onions, cut on the bias
handful bean sprouts
2 limes, quartered
handful of fresh cilantro, roughly chopped
½ teaspoon sesame seeds, black, white or both
½ tsp sesame oil
Instructions
Heat oil in a large wok or soup pot over medium high heat. Add curry paste, curry powder, turmeric and stir quickly until very fragrant, 1-2 minutes. Add coconut milk, 250 ml at a time, bringing it to the boil after each addition.
Add stock, star anise and cinnamon stick, brown sugar, sweet potatoes and zucchini and simmer, gently, for 10 minutes, or until vegetables are tender.
Add lime juice and fish sauce to taste.
Cook all the noodles according to package directions. Divide the noodles between bowls.
Spoon curry over noodles. Toss garnish ingredients together in a small bowl and divide between bowls. Top with garnishes and serve.
http://lovefood.tv/