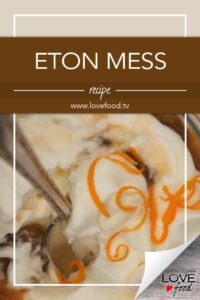 Eton Mess
2016-12-28 08:26:29
Ingredients
1 orange
2 stalks rhubarb, cut into 1 inch (2.5 cm) pieces
2 tbsp maple syrup
4 meringue 'cookies', each approximately 3-1/2- inches (8 cm) wide x 1/2-inch (1
cm) thick
2 cups (500 mL) 35% whipping cream
1 tsp (5 mL) vanilla
Instructions
In a small saucepan, combine rhubarb, orange zest, juice and maple syrup; bring to a simmer over medium heat. Reduce heat to medium-low and simmer gently for about 8 minutes or until rhubarb is very soft (reduce heat, if necessary, to avoid boiling). Remove from heat and let cool completely. (It was still warm on camera - equally good, but it will melt the cream 🙂 )
Just before serving, break meringues into bite-sized pieces and place in a large bowl.
In a separate, chilled bowl, whip cream until soft peaks form; add vanilla and fold into broken meringue bits. Add half of the cooled poached rhubarb to the cream mixture and stir gently until combined.
To serve, spoon mixture in a large serving bowl and top with remaining rhubarb and serve 'family style' at the table. Alternatively, spoon cream mixture into small serving dishes and top with remaining poached rhubarb. Serve immediately.
Store-bought meringue cookies, or nests, can be replaced by leftover, broken homemade meringue or pavlova shells, etc. The meringue adds lots of sweetness to the dessert, but feel free to add more maple syrup during the poaching stage if the rhubarb is particularly tart.
If fresh rhubarb isn't available, you can use frozen rhubarb. Let it thaw in a colander to drain off excess liquid and reduce poaching time to about 4 minutes.
http://lovefood.tv/