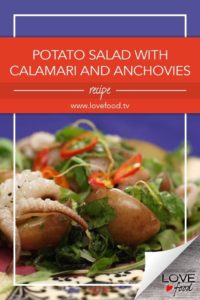 Potato Salad with Calamari and Anchovies
2016-12-13 07:49:01
Ingredients
1 lb (450g) cleaned, whole calamari (ink and quills removed by fishmonger)
1 ½ lbs baby potatoes
3 green onions, sliced
handful fresh mint, chopped
handful fresh cilantro, chopped
2-3 anchovy fillets, drained and chopped
¼ cup olive oil plus 1 tbsp for the pan
¼ cup red wine vinegar
zest and juice of 1 lemon
sea salt and pepper to taste
2 cups arugula to taste
Instructions
Place potatoes in a large pot and cover with cold, salted water. Add 1/4 tsp salt. Bring potatoes to the boil and simmer until just tender, drain, and set aside.
Combine green onions, mint, cilantro, anchovies, oil, vinegar, and lemon zest in a serving bowl. Add potatoes and toss to combine. Add sea salt and pepper to taste.
Meanwhile, prepare squid: slice 'bodies' into circles, and trim any extra long tentacles from the tentacles. Heat a fry pan over medium high heat with 1 tbsp of oil. Add squid circles and tentacles and stir fry, quickly, until circles are white and tentacles are curly and purple- it only takes about 1 minute. Season with sea salt and juice of ½ a lemon. Toss squid into the potato salad and top with arugula.
Finish with a squeeze of lemon juice.
http://lovefood.tv/