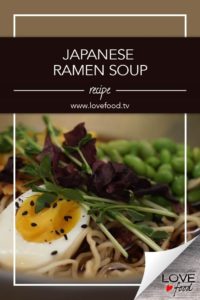 Japanese Ramen Soup
2016-12-13 07:41:10
Ingredients for the stock
5 cups of chicken, vegetable or fish stock
3 garlic cloves
4 tbsp soy sauce
1 tsp Worcestershire sauce
1/2 tsp Chinese five spice
dash of chilli powder, or more to taste
1 tsp white sugar
2 slices of ginger
Ingredients for the topping
375g ramen noodles
1 x 150g package hot smoked salmon
4 tbsp corn kernels
4 tbsp edamame (shelled)
4 hard-boiled eggs, peeled and halved
pea shoots – to garnish
dulse – to garnish
black sesame seeds – to garnish (optional)
Instructions
Cook the ramen noodles in a pot of boiling water until desired tenderness, then strain and set aside.
In a stockpot or large saucepan, place the chicken stock, soy sauce, ginger, five spice and chilli powder and garlic and bring to boil. Reduce to simmer for 5 min. Taste the stock and adjust to your liking. If it is too salty add some sugar, add more soy if you prefer it saltier.
Divide the noodles into 4 soup bowls. Arrange the salmon on top of the noodles, along with and egg, cut in half, 1tbsp each corn kernels and edamame. Bring the stock to boil once again, then take it off and divide the stock in the soup bowls. Garnish with pea shoots and edamame.
http://lovefood.tv/