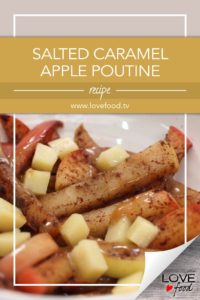 Salted Caramel Apple Poutine
2016-12-06 07:48:16
Ingredients for the Salty Caramel
1 cup butter, cubed
3/4 cup Brown Sugar
1/4 cup Corn Syrup
1 can Sweetened Condensed Milk
2 pinch Sea Salt
Ingredients for the Apples
2 apples, cored and cut into wedges
1 tbsp butter
1/4 tsp cinnamon
¼ cup rum or brandy
100g old cheddar cheese, cubed
Instructions
For the caramel sauce, melt the butter, brown sugar and corn syrup in a sauce pan. Whisk well to combine. Add sweetened condensed milk, whisk well, then add sea salt. Bring to a boil, whisking constantly, for 5 minutes, or until mixture has thickened. Remove from heat.
Heat a fry pan over medium heat. Melt 1 tbsp butter and add sliced apples and toss well. Add cinnamon, stir, then add rum and, if up for it, light with a match. Leave until the flame subsides, then stir well.
Spoon apples into a bowl and top with caramel sauce. Add a cubed cheese and eat immediately.
Notes
Makes 2 big bowls of poutine with plenty of salty caramel sauce left over for ice cream or countless other desserts
http://lovefood.tv/