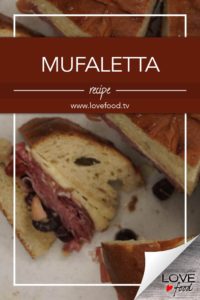 Muffuletta
2016-12-06 07:38:50
Ingredients for the Olive Salad
¼ cup olive oil
2 tbsp red wine or sherry vinegar
4 bay leaves
2 garlic cloves, thinly sliced
a few fresh thyme leaves
1 tsp fennel seeds
2 cups mixed olives – pitted and roughly chopped
1 tbsp capers
2-3 artichoke hearts from a jar, chopped
2-3 sun dried tomatoes, in oil, chopped
Ingredients for the Sandwich Part
1 loaf of bread (focaccia, or a small round loaf, something that can be cut horizontally)
100g salami, thinly sliced
100g capicola, thinly sliced
100g mortadella, thinly sliced
100g provolone cheese, thinly sliced
Ingredients for the Cinnamon Mustard
2 tbsp honey
2 tbsp Dijon mustard
dash of cinnamon
Instructions
Start by making olive salad. That's the key to the muffaletta.
Combine olive oil, vinegar, bay leaves, garlic, fresh thyme and fennel seeds in a small pot over low heat. When mixture has gently simmered, take off the heat and set aside.
Place olives, capers, artichoke hearts and tomatoes in a large bowl. Add mixture and stir well. Cover and store in the refrigerator for up to 2 weeks.
Meanwhile, mix the mustard ingredients together in a small bowl.
Place loaf, sliced horizontally, on a cutting board. Spoon olive salad over loaf, to taste. Reserve any extra salad and enjoy another time - on crackers, tossed in a green salad, tossed into a tuna salad…Layer meat and cheese on one side and drizzle with some honey mustard. Squish sandwich together. Wrap with plastic wrap and leave for an hour for extra flavour, or slice and eat immediately.
http://lovefood.tv/