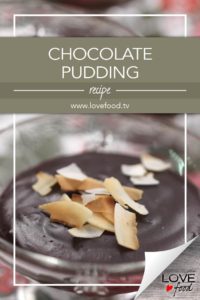 Chocolate Pudding
2016-12-06 07:29:26
Ingredients
2 1/2 cups whole or 2% milk
1/2 cup sugar
3 tablespoons cocoa powder
3 tablespoons cornstarch
1/4 teaspoon salt
1 cup heavy cream
3 large egg yolks
100g bittersweet chocolate, plus a little more for garnish
1 teaspoon vanilla extract
toasted coconut to garnish
Instructions
Pour milk and sugar in a saucepan over medium heat. Whisk, then leave to come to a simmer. Meanwhile, sift
cocoa and corn starch together into a bowl. Add salt and cream and whisk until smooth. Add egg yolks and
whisk again.
When the milk is just beginning to simmer (tiny bubbles are forming around the edge of the pan), ladle some of
the milk into chocolate mixture. Whisk, then ladle in another spoonful. This will gently heat the eggs. Now pour
chocolate mixture into the pan with the remaining milk. Whisking occasionally, allow mixture to come to a boil,
and boil for 2 minutes. Mixture should be thick by then.
Toast coconut in a dry pan over medium heat, stirring occasionally, until golden. Or, toast on a baking sheet in a
375F oven for 4-6 minutes, stirring halfway, until golden.
Spoon pudding into serving dishes and top with toasted coconut and a shaving of dark chocolate. Or, cover with
plastic wrap and chill for a few hours, or over night.
http://lovefood.tv/