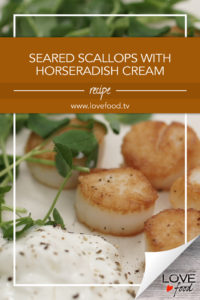 Seared Scallops with Horseradish Cream
2016-11-29 08:56:01
Ingredients
6 fat scallops
sea salt
for the hoseradish cream
2 tbsp grated horseradish (peel first before grating)
1 tbsp white wine vinegar
pinch dry mustard
sea salt and black pepper
1/3 cup sour cream or crème fraiche
1 cup loosely packed micro greens
Instructions
Pat scallops dry with paper towel and season with a pinch of sea salt.
In a small bowl, combine horseradish with remaining ingredients and set aside.
Heat a pan to medium high heat and add a little olive oil. Fry scallops– 2 min on one side, just a minute on the other, until no longer translucent in the middle.
Remove from heat and season with cracked black pepper.
To plate, spoon a dollop of cream on plates and top with scallops. Finish with a tangle of micro greens and a pinch of sea salt and pepper.
Notes
Serves 1, or 2 as an appetizer
http://lovefood.tv/