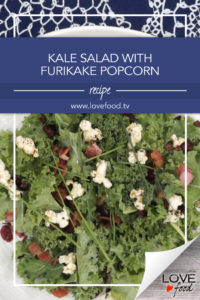 Kale Salad with Furikake Popcorn
2016-11-29 08:48:16
Ingredients
4 bacon rashers, chopped into pieces
4 tbsp vegetable oil
½ cup popcorn kernels
4 tbsp butter
½ tsp soy sauce
8 cups torn kale
3 tablespoons cranberries
2 tbsp chopped chives
Ingredients for the Furikake
3 tablespoons dulse, torn into smaller pieces (or shred your own nori)
1 1/2 teaspoons black and white sesame seeds, toasted – save a few on the side
1 teaspoon sea alt
1 teaspoon brown sugar
Directions for the Furikake
Place ingredients in a spice grinder and mix until well blended. Add reserved sesame seeds and stir to combine. Set aside.
Directions for the Popcorn
Melt butter in a small saucepan over low heat. Add soy sauce and furikake.
In a large pan over medium heat, add oil and popcorn kernels. Cover and wait for kernels to pop. When they begin, shake pan, with lid on, every so often. When the popping subsides, turn off the heat. Toss popcorn with butter mixture and use popcorn to garnish salad.
Directions for the salad
Heat a large frypan over medium high heat. Add bacon and stirring occasionally, cook until crispy. Place kale in a serving bowl and toss with bacon and 1 tbsp of the bacon drippings from the pan. Add chives, cranberries and desired amount of popcorn. Toss well and serve.
http://lovefood.tv/