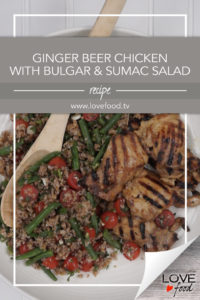 Ginger Beer Chicken with Bulgar and Sumac Salad
2016-11-29 08:38:12
Ingredients for the chicken
8 chicken thighs, skin off
1 x 350ml bottle ginger beer
1 tbsp chilli powder
1 tsp ground cumin
1 tsp ground coriander
½ cup soy sauce
2 cloves garlic, finely sliced
Ingredients for the salad
1 ½ cups bulgar wheat
1 ½ cups green beans, trimmed and cut to 2.5 cm pieces
4 tbsp olive oil
1 ½ tsp sumac
2 cloves garlic, finely chopped
large handful fresh mint
large handful of parsley, roughly chopped
12 cherry tomatoes, halved
3 green onions, finely sliced
sea salt and black pepper
Directions for the chicken
Combine all ingredients in a bowl or zip lock bag. Cover and leave to marinade in the refrigerator for at least 4 hours, or overnight.
Directions for the salad
Cook bulgar according to package directions. Fluff with a fork and leave to cool.
While the bulgar is cooking, bring a large pan of water to a boil and blanch the beans just until tender. Plunge into cold water, leave to cool, then drain.
In a separate bowl combine olive oil, lemon juice, sumac, garlic, green onions, cherry tomatoes and herbs. Toss in bulgar and green beans. Season with sea salt and pepper.
Leave to 'marinate' while you grill the chicken.
For the chicken, preheat grill pan of bbq to medium high heat. Brush grill pan, if using, with oil, pull thighs out of the marinade with tongs and grill 3 minutes per side, or until no longer pink inside.
Serve alongside salad.
http://lovefood.tv/