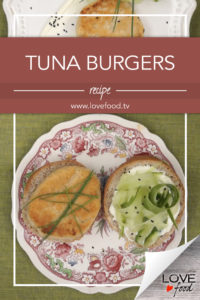 Tuna Burgers with Quick Pickled Cucumber
2016-11-22 07:41:57
Ingredients
1 cup drained canned cannellini or navy beans
2 x 170g cans tuna, drained
1 tbsp chopped green onions
zest and juice of ½ a lemon
1 tbsp mayonnaise
¼ cup chopped chives
1 tbsp pickled ginger
sea salt and pepper
2 tbsp olive oil
flour, for to coat patties before frying
4 buns, cut in half
1/4 cup mayonnaise with a small squeeze of wasabi
for the quick pickled cucumber
1 English cucumber, thinly sliced – use a mandolin or horizontal peeler
1 cup white vinegar - use champagne or cider vinegar if you have it!
¼ cup white sugar
¼ cup water
Sea salt
Sprinkle of black and white sesame seeds
Instructions
Start by making the pickled cucumber. Layer cucumber 'ribbon's in a bowl and sprinkle with sea salt. Place vinegar, sugar and water in a jar and shake vigorously. Pour onto cucumbers and leave to 'pickle'.
For the burgers, place, tuna, green onions, mayonnaise, lemon zest and juice, chives and ginger in a food processor and blend until smooth. Add sea salt and pepper and blend again. Taste, adding more salt if necessary. Spoon into a bowl then form mixture into four patties, or 8 'sliders'.
Sprinkle flour on a plate and coat patties in flour on both sides.
Heat oil in a heavy fry pan. Fry patties on both sides until golden and heated through.
Combine wasabi and mayonnaise in a small bowl.
Cover buns with spicy mayo, top with burger and a tangle of pickle and a sprinkling of black and white sesame seeds. Top with bun and serve. Or, plate tuna, without the bun, on a plate with a slick of wasabi mayo. Top with cucumber pickle and black and white sesame seeds.
http://lovefood.tv/