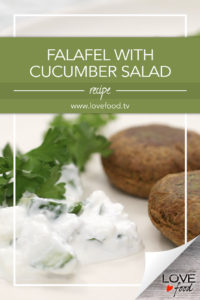 Falafel with Cucumber Salad
2016-11-22 07:27:17
Ingredients
1 can (426ml) chickpeas, drained and rinsed
1 tsp harissa paste
small handful fresh cilantro
small handful fresh parsley
1 tsp cumin
1 tsp sea salt
¼ tsp ground black pepper
zest of 1 lemon
3 slices of bread
12 x ½ tsp feta*
2-3 tbsp olive oil
For the salad
3 Lebanese Cucumbers (mini cucumbers) or substitute 1 English cucumber
2 cloves garlic, crushed and blended with sea salt to make a paste
1 tsp sea salt
¼ cup mint leaves, parsley and cilantro, finely chopped
500ml thick natural yogurt
½ cup feta, crumbled
Instructions
In a food processor combine chickpeas, harissa, fresh herbs, cumin, sea salt, pepper, lemon zest and three slices of bread. Blitz until mixture is fine crumbs. Form mixture into 12 falafels - round balls, roughly gold ball size. *If desired, tuck a little piece of feta into the center of each falafel before frying (highly recommended).
Heat oil in a large pan over medium heat. Fry falafels for 2-3 minutes per side, rolling them around, working in batches. Drain on a plate lined with paper towel.
For the Salad
Slice the cucumbers into bite-sized pieces place in a bowl. Grind sea salt with garlic, using the flat side of the knife. Scrape into a bowl with the cucumber. Add remaining ingredients and stir to combine. Salad is best made just before serving.
Notes
Makes 12 Falafels
http://lovefood.tv/