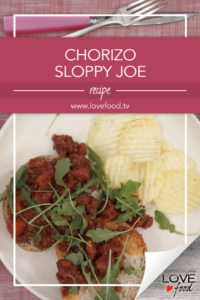 Chorizo Sloppy Joe
2016-11-16 07:19:07
Ingredients
A quick flavourful pasta sauce. Use this in lasagna, tossed over spaghetti, over penne, or, if you want to squeeze more vegetables into your body, zucchini spaghetti.
Serves 4
500g dried chozio (U –shaped from the superstore)
1 tbsp olive oil
pinch dried chilli flakes
½ tsp smoked paprika
2 cloves garlic, chopped
sea salt and black pepper
½ cup red wine
400g can chopped tomatoes
splash maple syrup
4 zucchini (or 400g pasta)
grated parmesan to serve
Directions
Roughly chop chorizo then place in a food processor. Blitz until finely chopped.
Heat olive oil in a large fry pan over medium heat. Add chorizo, chilli, paprika, garlic, salt and pepper. Cook, stirring every so often, until crispy. Turn up the heat and add wine and cook until bubbles calm down. Add tomatoes, stir and let it simmer away while you cook the pasta.
Boil pasta according to package directions, or spiralize (or peel with a vegetable peeler) the zuchinni. Toss it in pan with a little butter to heat zucchini up a little, or just toss zucchini ribbons through warm sauce. Up to you.
Spoon sauce over pasta or zucchini, and top with more pepper and shaved parmesan.
http://lovefood.tv/