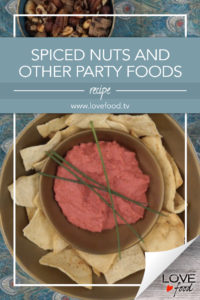 Spiced Nuts and other Party Foods
2016-11-16 07:23:42
Ingredients
1 cups (100 gr) mixed roasted nuts; any combination of cashews, whole almonds, peanuts, pecan halves, and hazelnuts
1 tbsp unsalted butter, melted
1 tablespoons dark brown sugar
1/2 teaspoon ground cinnamon
3/4 teaspoon cayenne pepper (or another red pepper)
1 1/2 tablespoons maple syrup
1 teaspoon flaky sea salt or kosher salt
1 cups (100 gr) shreddies
For the Beat Hummus
1 small roasted beet
1 15 oz. can (1 3/4 cup) cooked chickpeas, mostly drained
zest of one large lemon
juice of half a large lemon
healthy pinch salt and black pepper
2 large cloves garlic, minced
2 heaping Tbsp tahini
1/4 cup extra virgin olive oil
English Cucumber (1 per segment)
Directions
In a saucepan melt the butter. Add brown sugar, cinnamon, cayenne, and maple syrup.
Add the nuts, stirring until coated. Then mix in the salt and shreddies, and stir until the nuts and pretzels are completely coated.
Spread the mixture back on the baking sheet and return to the oven for 12-18 minutes, stirring twice during cooking. Remove from oven and cool completely, separating the nuts and pretzels as they cool.
Once cool, this mixture can be stored in an airtight container for up to a week.
Meanwhile – Make some Beet Hummus!
For the Beat Hummus
Once your beet is cooled and peeled, quarter it and place it in your food processor. Blend until only small bits remain.
Add remaining ingredients except for olive oil and blend until smooth.
Drizzle in olive oil as the hummus is mixing.
Taste and adjust seasonings as needed, adding more salt, lemon juice or olive oil if needed. If it's too thick, add a bit of water.
Will keep in the fridge for up to a week.
Notes
About 2 cups
Adapted from The Sweet Life in Paris
http://lovefood.tv/