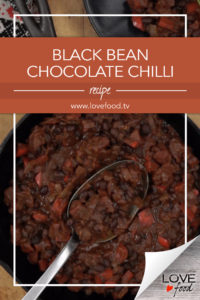 Black Bean Chocolate Chilli
2016-11-16 07:16:42
Ingredients
2 tbsp olive oil
1onions chopped
1 red peppers, cored and roughly chopped
2 garlic cloves, finely chopped
2 tsp ground cumin
2 tsp ground coriander
2 cardamom pods, seeds removed, crushed
2 tsp chilli powder
1 tbsp chopped cilantro stems
1 x 425g can chopped tomatoes
1 x 425g can black beans, drained and rinsed
¼ cup dark chocolate chips, or chocolate, broken
2 tbsp honey
2 tbsp cider vinegar
1-2 cups vegetable or stock
sea salt and black pepper
fresh cilantro to serve
spicy cashew cream – see below
For the cashew cream
½ cup raw cashews, soaked for a few hours in cold water
½-3/4 cup water
juice of ½ lime or lemon (have about 2 limes per take)
pinch sea salt
½ tsp apple cider vinegar
Directions
Heat olive oil in a large pan over medium high heat. Add onions, peppers, garlic and chili and cook, stirring, until beginning to soften, about 5 minutes. Add cumin, coriander, cardamom, chili, and stir until everything is soft and fragrant. Add beans, tomatoes, chocolate, honey, cider vinegar and enough stock to just cover. Simmer over low heat until ready to serve.
Combine topping ingredients and spoon over bowl.
For the Cashew Cream
Drain cashews and place in a blender or food processor. Add remaining ingredients and blitz until smooth. Add more liquid if necessary. Mixture will thicken as it sits. Good in the fridge for 5 days.
http://lovefood.tv/