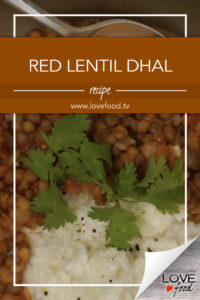 Red Lentil Dhal
2016-11-08 07:39:51
Ingredients
1 cup (200g) red lentils – canned for speed
1 tbsp coconut oil
1 onion, finely chopped
1 cloves garlic, finely chopped
1 inch piece fresh finger, finely chopped, or grated
½ tsp chili flakes
1 tbsp tomato paste
1 large tomato
1 onion, roughly chopped
2 cups boiling water or vegetable stock (or 3/4 cup hot vegetable stock, if using canned lentils)
sea salt to taste
juice of 1 lemon
handful fresh cilantro, finely chopped
For the Spice mix
2 tsp mustard seeds
1 tsp fenugreek
2 tsp coriander seeds
2 tsp cumin seeds
handful of cilantro, to serve
1 dried chilli, to serve
Coconut Cauliflower Rice (Serves 2-3)
1 head cauliflower, cut into florets
2 tbsp coconut oil
1 shallot, finely chopped
1 cup coconut milk
1 cinnamon stick
½ tsp salt
cracked black pepper
Instructions
Rinse lentils.
Heat oil in a large fry pan. Add onion and sauté until soft. Add garlic, ginger, stir and leave to soften over gentle heat.
Spoon mustard seed, coriander seed, fenugreek and cumin into a spice grinder or mortar and pestle. Blitz, or pound, until broken and well mixed. Spoon spices into the center of the pan with the onions, and toast for a little until fragrant, then stir into onion mixture. Add chilli flakes and sauté until fragrant. Stir in the tomato paste, tomatoes, lentils, boiling water or vegetable stock – about ¾ cup for canned lentils. Simmer gently so flavours can infuse. If using dried lentils, this will take about 40 minutes. Top up with extra liquid if needed - stock or water- and simmer until lentils are cooked through.
Remove from heat. Stir in lemon juice, sea salt and top with chilli (for show ☺ ) and cilantro.
For the Coconut Cauliflower Rice
Pulse cauliflower, in batches, in a food processor, until it becomes small, rice-like pieces. Don't turn to mush!
Melt coconut oil in a large pan over medium heat. Add shallot and sauté, 2-3 minutes. Add riced cauliflower, coconut milk and stir well. Pop in the cinnamon stick then cover and steam until coconut is cooked through. Test for doneness – it usually takes about 8 minutes. Add salt and pepper and serve with dhal.
http://lovefood.tv/