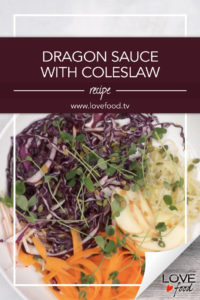 Dragon Sauce with Coleslaw
2016-11-08 07:32:38
Ingredients
1/4 head red cabbage, cored and finely sliced
1 carrot, peeled into ribbons
1 apple, thinly sliced
2 tbsp mixed seeds – pumpkin, hemp, sunflower, fennel
½ cup radish sprouts or pea shoots
½ cup sourkraut, or kimchi, to serve on the side
Display chopped ingredients in a serving bowl. Top with dragon sauce, seeds and micro greens.
For the Dragon Sauce
1/2 cup nutritional yeast
1/3 cup coconut oil
1/4 cup maple syrup
1/4 cup tamari
1/4 cup water
1/4 cup tahini
1 clove garlic
Instructions
Place all ingredients in a blender and blitz until smooth. Store remaining sauce in a jar in the fridge for up to 1 week.
Notes
Serves 2, with extra sauce to save for another time.
Look for nutritional yeast in the health section of the grocery store.
http://lovefood.tv/