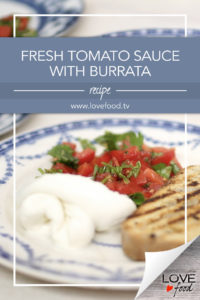 Fresh Tomato Sauce with Burrata
2016-10-24 07:13:35
Ingredients
700g, 1.5 lbs plum tomatoes
2 cloves garlic finely chopped
shredded basil - 2 tbsp finely sliced
2 tbsp finely chopped parsley
7 tbsp lovely olive oil
sea salt and pepper
300g pasta – spaghetti perhaps
Burrata – amount depends on size.
Instructions
Place tomatoes in a bowl of boiling water. Leave for a minute, then drain and refresh under cold water. Peel, using the scored at the top technique. Deseed and chop into small cubes. (Or grate? Cut in half and grate over a plate with a box grater. Texture will be different… liquidy)
Place into a bowl with garlic, basil, parsley, oil, sea salt and pepper. Leave for 1 hour for the flavours to infuse.
Meanwhile, boil the pasta. Drain, plate and top with sauce. Serve with Burrata on top and more basil/ parsley to garnish.
Notes
Serves 4
* Burrata will probably have to be sliced. Because it's a sack, treat it like a bowl of creaminess. Slice horizontally, and carefully place on top of pasta. Put what is not being used back into the container with water.
http://lovefood.tv/