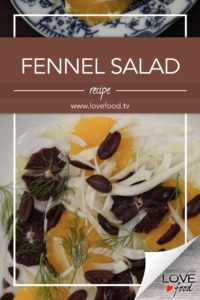 Fennel Salad
2016-10-24 07:00:21
Ingredients
1 fennel bulb
2 oranges, peeled and sliced
1 cup kalamata olives
about 2 tbsp extra virgin olive oil
sea salt
Instructions
Remove the feathery fronds from the top of the fennel, roughly chop and set aside. Using a vegetable peeler or pairing knife, remove any imperfections from the outside of the fennel bulb. Remove core, as you would a cauliflower, then thinly slice bulb, using a mandolin or sharp knife.
Remove pits from olives. Of maybe they've come pitted. Even better.
Scatter fennel and orange segments over a serving platter. Top with olives and a swirl of olive oil. Then, sprinkle over lots of sea salt.
Serve.
http://lovefood.tv/