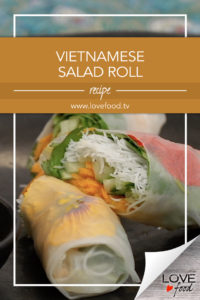 Vietnamese Salad Rolls
2016-10-18 06:23:04
Ingredients
1 mango, peeled and flesh chopped into matchsticks
2 carrots, peeled and chopped into matchsticks
5 cm piece cucumber, chopped into matchsticks
2 tablespoons chopped fresh mint
2 tablespoons chopped fresh cilantro
2 tablespoons chopped fresh chives
100g rice noodles, cooked and rinsed
edible flowers or fresh herbs – chive flowers! How …
rice papers
for the dressing
2 tablespoons sweet chilli sauce
2 tbsp palm or brown sugar
4 tbsp fish sauce
150 ml fresh lime juice
Nasturtiums if you have them!
handful toasted peanuts, roughly chopped
Instructions
Combine dressing ingredients in a small bowl. Whisk well and set aside.
Bring a medium saucepan of water to boil. Boil rice vermicelli 3 to 5 minutes, or until al dente, drain and set aside to cool.
Fill a large bowl with warm water.
Dip one wrapper into the hot water for a couple of seconds to soften.
Lay wrapper flat on a cutting board or counter.
In a row, along once side of the wrapper, place a handful of vermicelli, basil, mint, cilantro, lettuce, and vegetables. Place nasturtiums on top third of paper. Fold ends inward, then tightly roll the wrapper.
Slice in half and serve with Sauce.
http://lovefood.tv/