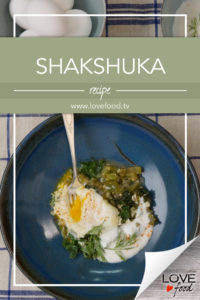 Shakshuka with Yogurt
2016-10-17 11:29:16
Ingredients
1 tbsp butter
1 onion, chopped
3 cloves garlic, 2 chopped, one left whole
1 green pepper, cored and chopped
1 tsp ground cumin
¼ tsp chilli flakes
1 x 19 oz can tomatillas, drained
2 cups finely sliced or chopped greens – kale, chard etc
3 eggs
½ cup full fat plain yogurt
1 tbsp chopped fresh dill
3 tbsp butter
pinch cayenne
sea salt and black pepper
Instructions
Heat butter in a large fry pan over medium heat. Add onion and fry until beginning to soften. Add half the garlic, pepper, cumin and stir well. Add tomatillos, and 1 cup water and simmer for a few minutes until soft. Stir in greens, then cover briefly until greens are wilted.
Make little divots in the sauce for the eggs. Crack eggs into divots. Put the lid back on (making sure sauce in gently simmering) and leave to cook, for 4 minutes or so for a soft egg.
Meanwhile, spoon yogurt into a bowl and grate garlic (a fine grater is best for this job) into the yogurt. Add chopped dill and set aside. Heat butter in a small fry pan. Add cayenne and stir.
Spoon green sauce and eggs into serving bowls.
Spoon yogurt onto eggs and finish with a swirl of the flavoured butter.
http://lovefood.tv/