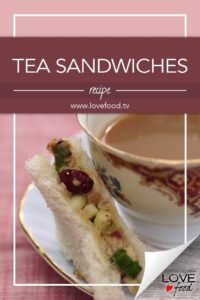 Tea Sandwiches
2017-01-11 07:53:36
Ingredients
2 cups cooked chicken, cubed
1/2 Apple, chopped fine ( you could stipulate what variety of Apple the crispier the better)
1/4 cup celery finely chopped
2 tablespoons green onion
3/4 cup dried cranberries
1/3cup pecan pieces, chopped
1 tsp curry powder
½-3/4 cup Mayonnaise*
*for the Mayonnaise – use purchased, or try homemade
1 large egg yolk
1 1/2 teaspoons fresh lemon juice
1 teaspoon white wine vinegar
1/4 teaspoon Dijon mustard
1/2 teaspoon salt plus more to taste
3/4 cup olive oil, divided
16 slices bread
butter, at room temperature, to spread on bread slices
Instructions
Combine ingredients in a mixing bowl.
Spread slices of bread on a clean work surface. Roll with a rolling pin to ensure even thickness. Spread each slice with butter, right to the edge. Spoon filling on half of the bread slices. Cover with remaining slices.
Cut crusts off and save for croutons, stuffing, or whatever you'd like. Slice sandwiches into triangles or rectangles.
Serve right away, or spread on a baking tray and cover sandwiches with damp paper towel or a damp tea towel then cover with plastic wrap. Refrigerate until ready to serve.
This sandwich mixture can also be used as a salad or spooned onto lettuce/ or open faced sandwich/or regular sandwich.
Homemade Mayonnaise
Combine egg yolk, lemon juice, vinegar, mustard, and 1/2 teaspoon salt in medium bowl. Whisk until blended and bright yellow, about 30 seconds.
Using 1/4 teaspoon measure and whisking constantly, add 1/4 cup oil to yolk mixture, a few drops at a time, about 4 minutes. Gradually add remaining 1/2 cup oil in very slow thin stream, whisking constantly, until mayonnaise is thick, about 8 minutes (mayonnaise will be lighter in color). Cover and chill. Can be made up to 2 days ahead. Keep chilled.
Notes
Makes 8 Sandwiches
http://lovefood.tv/