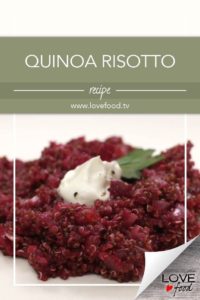 Quinoa Risotto
2017-01-03 10:11:06
Ingredients
2 cups vegetable broth
2 sprigs fresh thyme, plus 1 tsp chopped
2 tbsp butter
1 stick celery, minced
1 small onion, minced
1 cup quinoa – black, white or red
½ cup white wine
4 cooked beets, pureed, but leave one beet, cubed, to garnish
Handful Italian parsley to garnish
Sea salt and black pepper
2 tbsp crème frâiche (or sour cream)
2 tbsp goat's cheese
1 clove garlic
Basil leaves, parsley, or arugula to garnish
Instructions
Combine broth with 2 cups water in a large saucepan. Add thyme sprigs. Bring to a boil then reduce heat to low to keep warm.
Melt butter in a large, wide saucepan set over medium heat. Add celery and onion and gently fry until soft. Add quinoa and stir until glossy, about 1 min. Add wine and stir to deglaze the pan. Add 1/2 cup of broth mixture. Stir often until quinoa has absorbed most of the liquid, 3 to 6 min. Continue adding broth mixture, 1/2 cup at a time, until absorbed. Keep heat between medium and medium-low so mixture is just simmering. Stir often until quinoa is tender. Stir in puréed beets and stir until warmed through. Risotto should be slightly saucy. Remove from heat. Taste! Add sea salt and pepper.
Combine crème frâiche with goat's cheese and spoon onto risotto. Cube reserved beet and sprinkle over risotto. Top with finely sliced basil leaves or greens of your choice.
http://lovefood.tv/