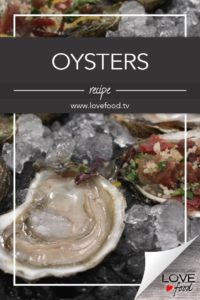 Oysters
2017-01-03 10:02:47
Ingredients for Brown Butter with Mignonette
¼ cup butter
¼ cup Champagne Vinegar (substitute Sherry vinegar)
1 tbsp minced shallot
pinch white sugar
pinch sea salt
freshly ground pepper
Ingredients for Crunchy Gremolata
100g diced pancetta
¼ cup panko (Japanese bread crumbs)
zest of a lemon
1 tbsp finely chopped flat leaf parsley
1 tsp olive oil
pinch salt and pepper to taste
Lemon wedges to serve
Directions for Brown Butter with Mignonette
Heat butter in a small saucepan until it foams. Swirl it around, let it calm down, then allow to become foamy again, a second time. Swirl and take off the heat when butter below becomes lovely light brown in colour.
Combine remaining ingredients in a small bowl. Add brown butter and whisk well.
Directions for Crunchy Gremolata
Fry pancetta in a large fry pan for a minute or so, then add breadcrumbs. Still well and fry until breadcrumbs are golden and pancetta is cripsy. Spoon in a small bowl and add lemon zest, parsley, a swirl of olive oil, salt and pepper.
Shuck oysters and serve over shaved ice. (Ice cubes melt too quickly). Leave out toppings and lemon wedges so people can help themselves.
Notes
Sauces for 12 Oysters
http://lovefood.tv/