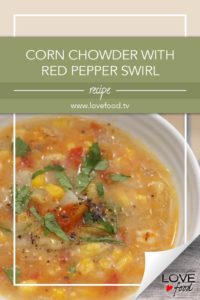 Corn Chowder with Red Pepper Swirl
2016-12-21 11:47:46
Ingredients
2 tsp olive oil
1 onion, chopped (approx 200 g)
1 potato, peeled and diced
1 stalk celery, chopped
1/2 red pepper, diced, save other half, see below
¼ tsp hot red chili flakes
500 ml chicken stock
1 x 284 ml can creamed sweet corn
100 g fresh or frozen corn kernels (or 1 fresh ear of corn)
½ tsp salt
¼ tsp pepper
To garnish
3 tsp olive oil
1/2 red pepper, halved and cored
1 red chilli pepper, approx 6 cm long, halved and cored
Pinch of salt and pepper
Instructions
Heat olive oil in a large pan over medium heat. Add onions and sauté until golden, about 10 minutes. Add potatoes, celery, chopped red pepper and chili flakes. Stir for one minute. Add stock, creamed corn and simmer gently until potatoes are tender, about 10-15 minutes. Season with salt and pepper.
If you're grilling corn, when it's nice and charred, slice kernels from the cob onto a cutting board. Scoop up the kernels and spoon into the pot and stir.
Meanwhile, place chili pepper and red pepper in a small cast iron pan or grill pan.
Char over medium high heat. Cut stem and core from pepper and membrane from chill. Transfer peppers and juices to a blender, season with a pinch of salt and pepper, and add olive oil. Puree until almost smooth.
Swirl a spoonful of puree onto chowder and serve.
http://lovefood.tv/