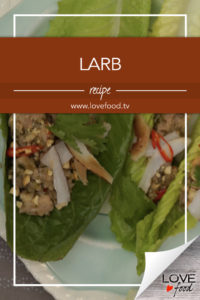 Larb
2016-10-17 11:10:52
Ingredients
2 tablespoons chopped fresh ginger
3-4 small red chillies , stemmed and seeds removed
handful of torn cilantro leaves, plus more for garnish
juice of 1 lime
1 tablespoon oyster sauce
2 tablespoons brown sugar
1 lb (454 g) chicken breasts or thighs, roughly chopped
2 tbsp fish sauce
1 tablespoon vegetable oil
1 small red onion, finely chopped
½ cup shredded coconut (big flakes) toasted
½ cup roasted peanuts, chopped
about 10 lettuce cups, depending on size of lettuce (hearts of romaine, baby bibb, endive)
Instructions
Place ginger, chillies, cilantro, lime, oyster sauce and brown sugar in a food processor. Pulse until combined. Scoop mixture out with a rubber spatula, place in a bowl and set aside.
Place chicken and fish sauce in food processor. Don't worry about wiping food processor out first. Blend until chicken resembles ground chicken.
Heat oil in a wok over medium high heat until almost smoking. Add onions and chicken mixture. Heat, stirring and chopping with spatula, until cooked well and finely minced. When chicken is cooked through, toss with cilantro mixture. Taste – add salt if necessary.
Place lettuce 'boats' on a platter. Spoon chicken mixture into lettuce, and garnish with coconut, nuts and a sprig of fresh cilantro.
http://lovefood.tv/