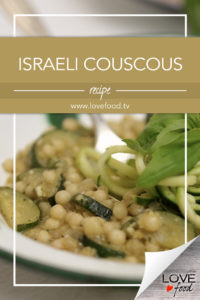 Israeli Couscous
2016-10-17 11:07:58
Ingredients
1 small zucchini, sliced
1 medium zucchini, julienned – either spiralized or thinly sliced with a mandolin
sea salt
2 tablespoons olive oil
1 onion, chopped
2 cloves garlic, finely chopped
¼ tsp chilli flakes
salt and pepper
1 cup (250ml) Israeli couscous
2 cups (250ml) vegetable stock
For the Pesto
Large handful of fresh basil
1 clove garlic
¼ tsp of sea salt
¼ cup (75ml) toasted nuts (walnuts, pine nuts, cashews etc)
4 tablespoons freshly grated parmesan cheese
½ cup (125ml) olive oil
2-3 tbsp ricotta
Instructions
Prepare zucchini and place in two separate bowls, one for strips, one for slices. Sprinkle with salt and set aside while you cut the onions.
Heat olive oil in saucepan over medium heat (use a pan that has a lid). Fry onion in oil until it begins to soften. Add the sliced zucchini to the pan with garlic, chilli, salt and pepper. Sauté until zucchini begins to brown and little, then stir in cousous. Stir to coat the couscous, add stock and cover. Leave to cook for 8 minutes or so, stirring from time to time, until couscous is cooked through.
While couscous is cooking, prepare pesto. Place basil, garlic, salt, nuts and parmesan in a food processor. Add olive oil, while motor is running, and blitz until smooth. Scrape into a bowl and stir in ricotta.
Taste couscous. Add sea salt and pepper to taste. Pat spiralized zucchini with paper towel. Spoon couscous into bowls and top with pesto and a tangle of raw zucchini.
http://lovefood.tv/