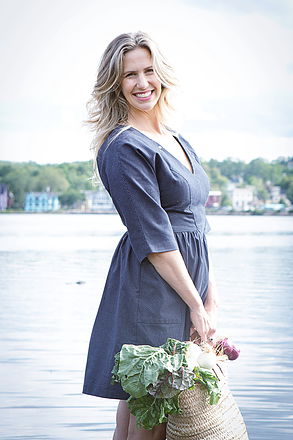 Welcome to Love Food, hosted by Lindsay Cameron Wilson.
Love Food celebrates local ingredients in fresh new ways - whether it's grilled haddock and pea shoots or beef burgers topped with rhubarb chutney.
Lindsay's cheerful chat about foraging through neighbours' vegetable patches and substituting freely with what's in season will have viewers coming back for seconds.
Lindsay's recipes are like a patchwork quilt of life.
"It's never just about the recipe. Cooking is the story of your neighbourhood, your friends, your family, your travels and the ingredients you use, all woven together to tell a story – a food love story."
Looking as good as they taste, Lindsay prepares three different dishes each episode.
Embodying the warmth, love, and passion of Lindsay and her cooking, the show's theme song is Jenn Grant's EMCA award winning I've Got Your Fire.
Lindsay is the author of seven cookbooks. She's a food stylist, cooking instructor, and writer. She lives in Halifax with her husband and three boys.
Love Food airs on Eastlink TV in Atlantic Canada and around the world in syndication.